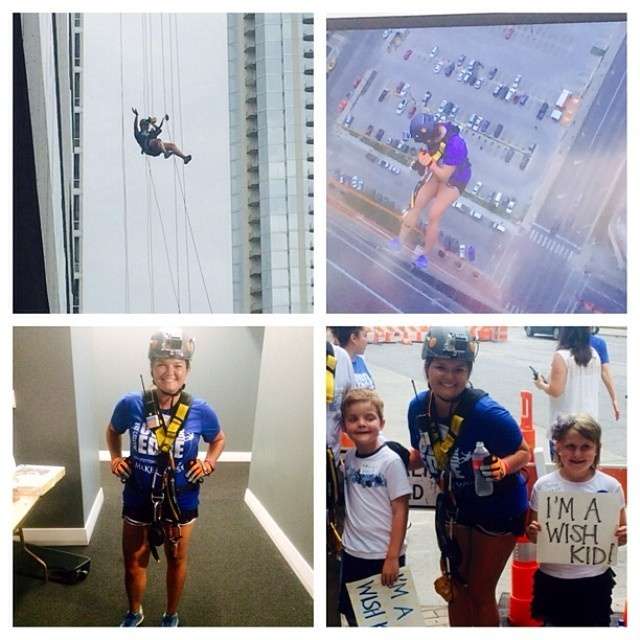 Not sure how I got to this point. I began my college years just like everyone else, wanting to be apart of something, to meet new people. Joining a sorority was just the ticket; through Chi Omega I became involved with the amazing, Make-A-Wish Foundation.
Throughout the years, my sisters and I put on several events, such as golf tournaments and color runs, with hopes of raising money for our sweet wish kids. We also organize wish parties for the kids before they go off on their wish, which is probably my favorite part. This year I have the great honor of being named Community Service Co-chair, meaning my co-chair and I plan the events that raise money for our wish kids.
With all this experience meeting our wish kids and helping plan and be apart of granting their wish made me want to do more. Now, I'm a intern at Make-A-Wish Central & South Texas, which brought me to Over The Edge!
The day was finally here, the day we had all been waiting and working so hard for. That day I woke up knowing I would be volunteering at the registration table, never in a thousand years did I think I would be rappelling down a 38 STORY BUILDING!!!! The beginning of the day went smoothly, I had the pleasure of meeting and talking to the Edgers before they embarked on their journey Over The Edge. Some came with smiling faces and some you could tell were nervous. Midway through that day I actually got to hang out with some of the wish kids, like Angelina and their families as they were cheering on the Edgers at the bottom.
Later on in the day my supervisor, Kathryn Draper, who was the brains and effort behind the OTE operation, asked me if I wanted to go over the edge......my face immediately went red and nerves overtook my body. Now I felt like the rest of the Edgers that I saw earlier that day. Of course I said yes(not sure how confident I sounded...) nerves and all. The one thing I that kept me sane and really what got me over the edge was the wish kids and their families I had met earlier that day. Rappelling down 38 stories is nothing compared to what they go through.
I will never forget this Over The Edge event! The experience in whole was unforgettable mostly because of the amazing, kind hearted people that came together to make it all happen. Don't get me wrong, rappelling over the edge was incredible but getting the chance to talk to the wish kids like Angelina and their families was the BEST part, no doubt!!
Hope to raise money to go Over The Edge again next year and years to come!